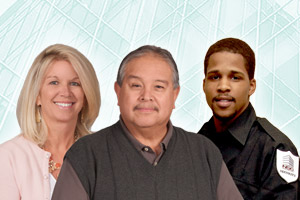 At NSG, we're proud of our people. They are the key to our success. We invest in our people through competitive wages and benefits, training and mentoring, and leading technology to do their jobs better, every day.
NSG has an exceptional track record in retaining key management and technical personnel. NSG senior managers have amassed over 100 years cumulative experience with NSG. This commitment and stability allow us to deliver services consistent with NSG's high standards and the expectations of our long term clients. It also speaks to our leadership's commitment to long-term employee satisfaction.
NSG fosters an atmosphere for employees to excel and be rewarded for their performance. NSG provides competitive wages and benefits and recognition for exemplary efforts and results. Compensation includes above marketing hourly pay; health, dental and life insurance for qualifying full time employees; a 401(k) retirement savings plan with discretionary employer matching contribution; and paid vacation and holidays.
We also provide financial incentives to promote and reward perfect attendance and exemplary work effort. We believe our pay scale and comprehensive benefits package distinguishes us from our competitors and helps to retain satisfied, quality employees.
It has been, and will continue to be, the policy of NSG, Inc. to be an equal opportunity employer.

Why people love working at NSG
Working for a solid, stable industry leader
Competitive wages and benefits
Tools and technology to do the job better
Atmosphere design to help you excel
Commitment to employee satisfaction
Rewards for exemplary performance
Being a valued member of a winning team
Apply Online
Join NSG's Winning Team
We're looking for experienced, smart, driven people who can grow as we do. Apply online and invest in your career today.
Apply Online