Cincinnati Commercial Janitorial Services
Commercial Janitorial Services: Trust the right partner
When it comes to professionalism and commitment, the NSG team delivers a local and experienced commercial janitorial service that national accounts can't touch. NSG's accounts receive regular and consistent site contact from our janitorial director and cleaning team. Our clients recognize the value and convenience of a single point of contact. That's why our commercial janitorial team is known for creating long-term, successful relationships with a wide variety of clients, from small businesses to Fortune 25 companies.
Learn how your business can benefit from our commercial janitorial services
Commercial Janitorial Services provided
Experience the NSG Difference.
Contact NSG today to learn how your business can benefit from our commercial janitorial services now and in the future.
Large fortune 500 company in an owner-occupied high-rise building
While NSG was a trusted partner since 1988 to the customer, the COVID-19 pandemic brought unprecedented challenges.  The customer quickly needed a new to the world janitorial cleaning program that was comprehensive, responsive, and still worked within their budget.
NSG listened to the customer and worked with them to develop a cleaning protocol that addressed their unique cleaning challenges.  The NSG janitorial team partnered with the customer every step of the way to deliver a program that included high touch disinfection for surfaces like elevators, conference rooms and door handles.  NSG also quickly recommended the addition of fine mist disinfection that included a 30-day germ barrier and the ability to test surfaces for germs before and after disinfection.
By reprioritizing cleaning to the daytime instead of night, the new recommended protocol was adopted, and costs were able to stay in budget.  The customer's employees have returned to work and since June 2021, our disinfection data demonstrates an 78% decrease for weighted average Pre-Disinfection RLU's across all locations which equates to a "hospital grade clean".  Finally, to date, employee feedback indicates that they feel more comfortable being back at work with the new protocol and disinfection services.
Affordable, 100% free, no-obligation quote
Janitorial services you can rely on in Cincinnati
NSG specializes in janitorial and commercial cleaning services in Cincinnati. Providing tailored, cost-effective solutions for clients across multiple industries, NSG delivers incredible results at affordable prices. 
If you're looking for a company to take over janitorial management for your Cincinnati business, NSG is the name to trust. Our aim is to offer peace of mind by creating and maintaining clean, safe working environments.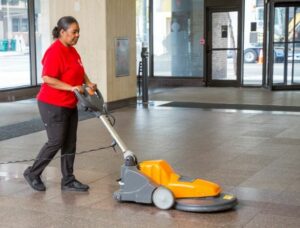 Finding the right janitorial partner in Cincinnati
At NSG, we understand the importance of finding the right janitorial partner for businesses in Cincinnati. We have extensive experience in working with a broad spectrum of commercial clients and we recognize that all of our customers have unique requirements and preferences. We believe that the right janitorial partner offers:
An experienced, local management team

An effective time-keeping system to ensure staff members are on site

Providing access to cross-trained mobile floating crews for emergency situations

Providing regular, consistent site contact

Using mobile-based technology to perform inspections

Providing monthly reports to track key performance indicators
How Can NSG benefit your Cincinnati business
NSG works with a vast array of commercial clients. From small businesses and ambitious start-ups to  Fortune 25 companies, we provide solutions that work for our customers. We offer an extensive selection of commercial cleaning and janitorial services to cater to the diverse needs of our client base. If you are looking for a Cincinnati company you can trust to deliver first-class commercial cleaning and janitorial services, here are some of the ways working with NSG will benefit your business:
1. Customized Cleaning Solutions
We know that our clients have different needs and preferences. We adopt a flexible approach and we can tailor services and commercial and office cleaning packages to suit the individual client. We cater to all budgets and we work with clients across several industries. We understand the unique demands and challenges within different sectors. From healthcare to retail, we provide high-quality, customized cleaning solutions. 
2.  Create a Positive Impression
The average human being creates a first impression in around 7 seconds. At NSG, we know that making a positive first impression is essential in business. Our janitorial and cleaning services are designed to help you impress customers, clients and employees from the outset. 
3.  Affordable Prices
We are proud to have a transparent pricing strategy, and believe in fair pricing for our customers. We offer free estimates and we can tailor services to suit all budgets. 
4.  Skilled, Experienced, Trained staff
Our team is skilled, experienced and highly trained. You can rest assured that your business premises are in safe hands.  We have over 40 years of experience and our leadership is well tenured, so you can expect quality with every interaction.  
What's different about NSG?
NSG is not your run-of-the-mill Cincinnati commercial cleaning company. We strongly believe that we are the name to trust for janitorial management in Cincinnati. NSG is an established, reputable, family-run business with over 40 years of experience in delivering the highest quality janitorial and cleaning services in the Greater Cincinnati area. If you choose us, you can expect the following as standard:
Fast, responsive customer support

Access to highly-skilled, trained staff

Attention to detail

Cutting-edge technology and equipment

Custom cleaning services and packages

Commitment to developing long-lasting relationships with customers

Proactive cleaning services

Monitoring and performance tracking to make continual progress

Customer focus: we offer unrivaled personal attention for every client
The advantages of professional janitorial solutions in Cincinnati
Focus on Your Core Business

Promote health and safety in the workplace

Create comfortable, safe, & welcoming working environments

Reduce the risk of health issues and staff absences through effective infection control and hygiene

Reduce hiring and recruitment costs by outsourcing commercial cleaning
Are you looking for janitorial or commercial cleaning services in Cincinnati? If so, we would love to hear from you. We offer free estimates and our friendly team is on hand to answer questions and provide advice about our services and fees.
Contact us today for a free estimate!