NSG, Inc. — Complete Building Services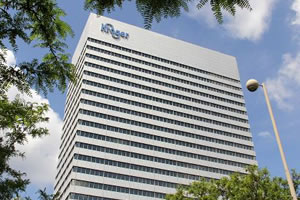 Founded in 1988, NSG is a leading provider of complete building services for clients in Greater Cincinnati, from small businesses to Fortune 500 companies. Through careful financial growth and winning client partnerships, NSG has grown into a unique company in the market: a single source for integrated services and in-house expertise for all aspects of commercial real estate.
Since 1988, NSG has proudly served the Kroger Co., UC Medical, Eagle Realty and many other outstanding businesses in Greater Cincinnati. We offer broad industry expertise for business & corporate clients, commercial buildings, government, medical & healthcare, public parking, retail business, and more.
Today, NSG offers exceptional janitorial services, security services, parking services, equipment sales & repair, facility maintenance, and carpet & upholstery cleaning for all your facility needs. We distinguish our services through experienced leadership, unrivaled personal attention and a commitment to technology and innovation to deliver better quality, performance and value, every day.
If your goal is to reduce facility service costs while improving quality, efficiency and performance, we encourage you to contact NSG today to learn how your business will benefit from our complete building services, now and in the future.
Decades of experience delivering quality services and value you can count on
Integrated services and in-house expertise for all your facility needs
Customized building services, tailored to your requirements
Experienced leadership to consistently improve quality and performance
Leadership personally selects our people to ensure high-quality employees
"Fanatical focus" on personal attention for long-term client satisfaction

Technology enhanced services offer 24/7 reporting for better service insights
Contact NSG Today
Experience the NSG Difference.
Contact NSG today to learn how your business will benefit from our Complete Building Services, now and in the future.
Contact NSG Today